Electric bikes are a new and exciting part of cycling. To help you discover the joys of riding an electric bike, our team thought it would be a great idea to write down the E-Bike 101.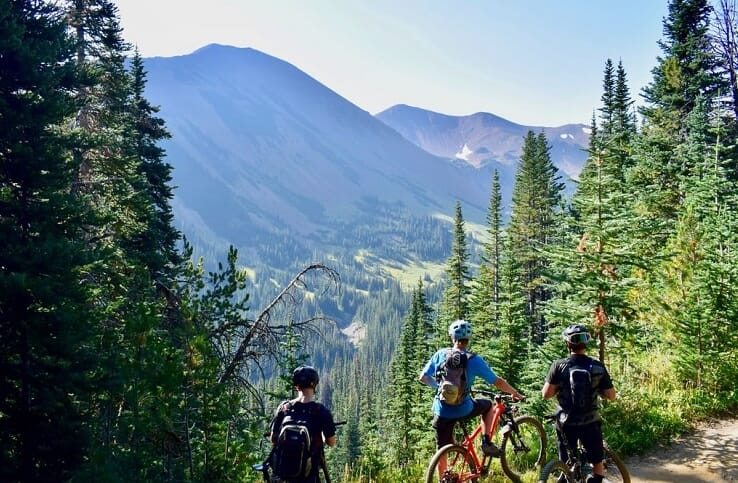 Here's  the E-bike 101: Everything You Need to Know about Electric Bikes:
1. What is an e-bike?
E-bikes look just like a normal bicycle, but they also have an electric motor that provides extra power when you pedal. You still have to pedal, but the electric motor makes it easier for you to go uphill. When you add electric assistance, it adds to the enjoyment of cycling.
2. What kind of eBike should I get?
There are folding, commuter/urban, and mountain bikes. The kind of bike you want to buy depends on your needs. Before you buy it, you must ask yourself if you want it to be stylish, fast, good at climbing hills, or if you need it to go the distance. Once you have determined these things, you will be able to make an informed decision about what features to look for in an e-bike.
3.Should I buy a bike with a mid-drive motor or hub-motor?
In general, hub motors have proven to be more reliable and durable. And if you are an inexperienced cyclist, hub motors tend to be easier to operate. On the other hand, mid-drive bikes tend to get better range and climb better with the same battery capacity. But for the casual cyclist or urban commuter, it doesn't matter. So, they all have their benefits. Each has advantages and disadvantages based on cost, weight, and reliability. So, unless you have some unique requirements for each of these key attributes, just make your choice and get out there and enjoy your ride.
4.How much does an electric bike cost? 
Electric bikes range in price from $500 to $10,000+ but the average price range for quality electric bikes is $1,000 to $4,000.
5.Where can I ride an E Bike?
Ebikes can be ridden anywhere a regular bike is allowed. You can ride an e-bike in the following places:
Any bike lane on the street.
Shared-use paths set aside for bicycles and pedestrians
Some trails inside parks.
Any trails that allow motorized vehicles.
6.How Fast can I go?
If you pedal, you can go as fast as you can go. An average e-bike can go as fast as 20 mph. However, different countries and regions have different limits on e-bike speeds. In Europe, the maximum power for an e-bike is 250 watts and the maximum speed for an assisted e-bike is 25 km/h. In the USA, however, the rules are different. There, the maximum power of an e-bike motor is 500 watts and the assisted speed can be up to 20 mph (32 km/h).
7.How far will an e-bike go on a single battery charge?
On average, an electric bike can travel between 25 and 50 miles. Many different factors play an important role. They include the size of the battery, your weight, how much or how hard you pedal, gradients, headwinds, air temperature, etc. But you can expect to get anywhere between 30 miles (about 50 km) and 90 miles (about 145 km). Some e-bikes have even more range than this.
8.What Is the Right Electric Bike Size for Me?
Electric bicycles now come in many shapes and sizes. When looking for the ideal size for your e-bike,you need to consider frame size, saddle height, pedal position and even handlebar height. Key factors also include your desired riding experience and comfort level.
Your height/bike size:
4'11" – 5'3″ = 13 – 15 inches
5'3″ – 5'7″ = 15 – 17 inches
5'7″ – 5'11″ = 17 – 19 inches
6'0″ – 6'2″ = 19 – 21 inches
6'2″ – 6'4″ = 21 – 23 inches
6'4″ and above = 23 inches and above
These are general recommendations. It depends on how long your legs are and how you feel most comfortable sitting on the bike, a larger or smaller size may be more comfortable for you.
9.What are e-Bike weight limits?
Some e-bike manufacturers, describe the weight limit for all their e-bikes in a clear and prominent way. You must be clear if this figure includes the weight of the e-bike or if it simply refers to the rider and any additional cargo or passengers they load onto the e-bike. Generally speaking, most e-bikes weigh between 30 and 70 pounds. An e-bike can carry a person weighing between 220 and 300 pounds. There are also some e-bikes that are designed for heavier riders.
10.What happens if my battery runs out?
If you are going out for a long ride, you can take a spare battery or a charger with you. Even if you lose all your battery power for some reason, you'll be able to ride like any normal bike.
11.What happens if I lose my keys?
All customers are encouraged to make additional copies of their keys, as we are unable to provide spares if lost or stolen. An entire new battery/motor assembly will need to be purchased if keys are lost.
12.Is helmet required to ride an E-Bike?
As a general rule you should wear a high quality safety helmet as the risk of head injury on a fast e-bike is higher. It is recommended that you check with your local and state government to determine the regulations and requirements for your area.
13.How do I charge the battery?
Plug the charger into the charging port located on the battery pack and then plug the AC adapter into the socket.
Then plug the AC adapter into the socket. When the battery is depleted it will take 6-8 hours to fully charge it.
When the battery is depleted, it will take 6-8 hours to fully charge it. The green indicator light located at the top of the battery pack will alert you when the battery is fully charged.The battery is fully charged.
14.Can I use another charger?
Only use the included charger to charge your battery. Do not use any other charging device. Use of a charger other than the included charger will void the warranty.DO NOT LEAVE UNATTENDED WHILE CHARGING. DO NOT OVERCHARGE THE BATTERY – UNPLUG  ONCE LIGHT IS GREEN.
15.How long does it take to charge the battery?
Depending on the remaining charge of the battery, between 6-8 hours.
16.How many charges until the battery needs to be replaced?
Usage and riding conditions vary greatly and can affect charging and battery life.Under normal conditions of use, the battery should last around 3 years.
17.How should I clean my E Bike?
Most dirt can be removed with a clean, dry rag or towel dampened with a small amount of water. Be sure to dry your bike completely after cleaning. You can also use a mild detergent to remove stubborn road grime.
18.What maintenance does an e-bike require?
There are usually no special maintenance requirements for e-bikes other than simple physical protection and keeping the battery fully charged after each use.
19.Tire pressure:
Recommended tire pressure is 40-65PSI, depending on the model. Be sure to maintain proper tire pressure to achieve the maximum tire life. Add air as necessary if the pressure drops below the recommended pressure listed on the side of each tire.
20.Can I leave my e-bike in the rain?
Although e-bikes are waterproof, it doesn't mean you should leave them in the rain or they will inevitably rust.
It should be noted that there are a large number of questions about electric bicycles. If there is a question that has not been answered, please leave a comment or write to us and we will be happy to help you. We will do our best to improve this E-Bike 101.