What Is Electric Bike Dropshipping?
Electric bike dropshipping is a form of retail business. The seller accepts customer orders without keeping electric bicycles in stock. When a customer buys an E-bike from you or your shop, you just need to provide us with the customer's order and shipping details, and we (Teksunny) will deliver the bicycle directly from our warehouse to your customer. You don't have to handle the product and delivery directly.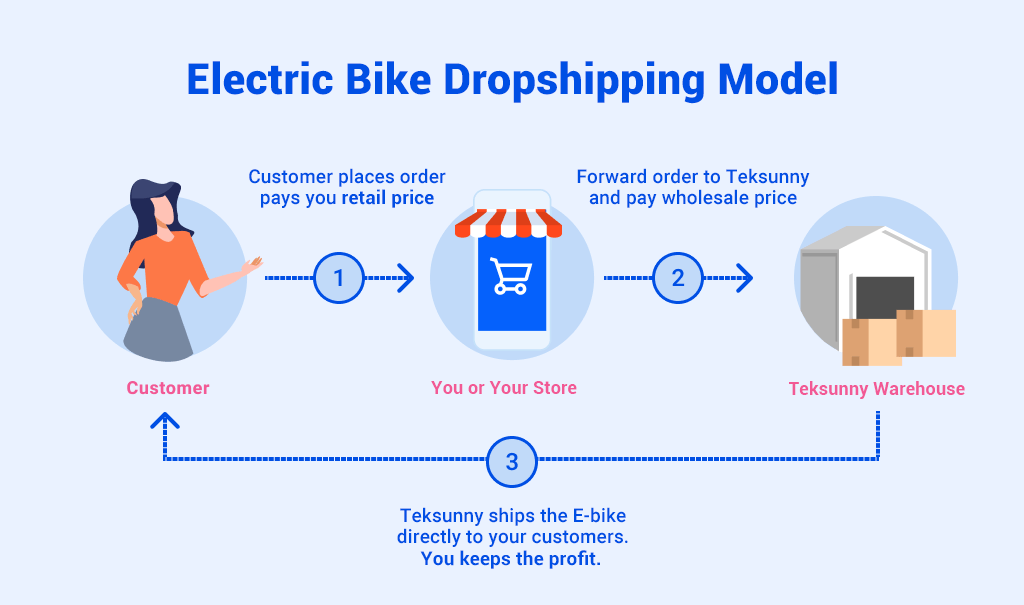 Why You Dropshipping?
1.Low Capital Requirement:
You do not need inventory. So you can use little money to earn big money and the profit margin is usually on the higher side.
2.Easy to Start and Manage:
You will not have to worry about shipping, with dropshipping the products are sent to your customers through us. Zero control over shipping, packing, and delivery. You will not have to worry about inventories so you will not have to store the merchandise in your home or in a warehouse, this will save you money.
3.No minimum order quantity ( MOQ):
It is not necessary to have a minimum of orders or pieces for dropshipping, because you only buy what you sell!
4.High-Profit Margins
Electric bicycles emerge as a hot trend in the U.S. and the market is big enough. We ( Tekusnny) offers you wholesale electric bike at discounted prices up to 75% and with large profit margins for you. You set the prices and you have control over the profits.An alternate job can earn you more than your office job
5.Your Career.
Your only boss is your clients. You can decide the work you want to do and how you manage your day and time. You could scale up business with less money and in a short time.
Why choose Teksunny?
1.We have rich experience in electric bike dropshipping. 
2.We have a large number of electric bikes in our warehouses in the United States, which can receive products and deliver goods quickly.
3.Professional team to handle orders and after-sales.
4.Have a strong supply chain. We have big electric bike factory in China and make shippment to United States every month.
5.No MOQ. You don't need to worry about having inventory.
How To Become Tekusnny Dropshipper?
Step 1:Email us to apply to become our drop shipper if you are interested in electric bike dropshipping.
Step 2: Establish a partnership
We will discuss and decide the drop shipped product and price with you.
Step 3: Place your dropshipping order.
When you receive an order from your customer, you forward the order to us.
Step 4: Ship your dropshipping order.
After receiving your order notification and payment, we will ship the electric bike directly to your customer from our warehouse.
Step 5:Order completed.
When the order is completed, you will get the margin.